Too cool for school packaging
Packaging is generally a way of keeping a product together, providing the consumer information about it and trying to get them to make a purchase and some of the following examples continue to do just that, but with a little added wow factor.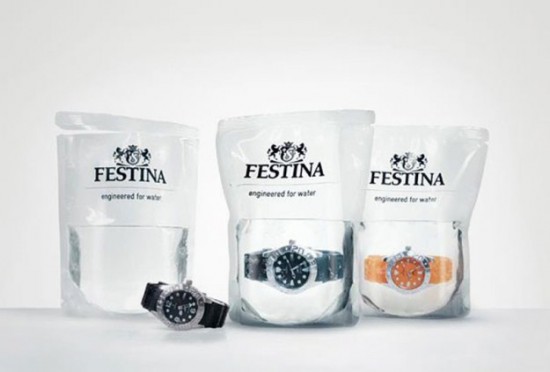 Image from Fun Cage
The purpose of this packaging is to show that the watch in question is made to survive superbly underwater. It comes out of the packaging looking brand new despite having already been 'used' underwater. Generally speaking it's not every day you see a watch in a pouch of water, the element of surprise has been used here.
Image from creative repository
Despite being precisely what the packaging says it is this product and its packaging still has the cool factor - literally. The shake of it looks as though it has been cut from ice and if it isn't kept in the freezer it would defrost and ruin the beautiful nature of it. The simplicity of the text also add's to the 'made from nature' element to the packaging.